Finding the perfect wedding dress can take up to a year for some brides. When you find that perfect dress, you then need to move on to the next step; finding the perfect pair of shoes that will go well with that perfect dress! We looked to TLC's, Sara Elliott, on some tips for finding your perfect pair as well as show some of our favorites from todays shoe inspiration by BHLDN. Enjoy!
While some wedding dresses will never see the light of day after your wedding, your shoes very well may become a part of your wardrobe in your collection of cute kicks for years thereafter. So have fun with the color and design of your shoes, but don't forget they should also be structural wonders. They need to support your feet as well as your weight so that you can gracefully glide down that aisle with ease. So, if you usually like wearing comfortable ballet flats, choosing a 4" heel may not be the best choice. But if you dare, make sure you practice and prepare for your wedding day!
The current trend for wedding shoes are earth tones and pops of color. There are still some brides that like to match their shoes and dress perfectly but we love to see brides that pick a bright pop of color from the wedding palate to make it a bit more playful.
If you are matching your shoes, look for a good match...
When you're wearing a white or cream colored gown and want your shoes to match, be careful to match them exactly. The shades between bright white and cream can be subtle, but when they're side by side, the difference is noticeable. Your best bet when matching shades is to ask your dressmaker or retailer for a fabric swatch. Compare fabrics and colors in different lights before choosing, too. Oh, and arrange for the dress first and then buy the shoes. Life will be much easier that way.
When you want contrasting shoes...
Choose a color that coordinates with something in your wedding decor. You may want to wear breathtakingly red shoes with your white gown -- which is OK by the way -- but make sure there is red somewhere else in your wedding design. The human eye likes the symmetry of repeated shapes and colors.
Textures and materials matter...
The materials a shoe is made from will have an impact on its overall appearance. A white leather pump, say, will look less reflective, and less bright, than a white patent leather pump, or satin sandals or a sling pump that sports a cluster of crystal embellishments. Any of these material options will work with the right dress, just be aware that color isn't the only consideration; texture and shine play a role, too.
Insist on shoes that fit your feet. Most shoe stores will measure your feet to determine the right size for you. Take advantage of this service before you shop. Your feet keep growing throughout your lifetime, so they may be a half size larger than the last time you checked. Your two tootsies aren't both the same size, either. Knowing the facts will help you land on your feet -- and into the right shoes.
When you shop for wedding shoes may have an impact on how well they'll fit on the big day. Over the course of the day, your feet swell at least a little. Always shop for shoes in the afternoon when your feet are at their largest. That way, you'll avoid shoes that pinch.
After you try on a pair of shoes, walk around the shoe department in them for a few minutes. Get a feel for the way they respond on carpet as well as hard surfaces. Are they slippery? Do they rub in the heal area? The more comfortable the shoes feel now, the fewer problems you'll have later.
Wear what works for you...
Consider wearing what you're familiar with. If you typically wear shoes with 2-inch heels, they may be your best bet. Within that description, you'll be able to find hundreds if not thousands of shoes that will fit the bill. Instead of choosing 4-inch stiletto heels you'll have to train yourself to wear (or risk falling off them in the middle of the wedding), choose pumps with the heel support you expect and a height you know you can manage. Weddings are stressful enough without worrying about potential shoe disasters.
Stick with natural fibers...
Shoes made from synthetic materials like plastic can look great, but synthetics have less flexibility than leather and natural fibers like silk. Synthetics don't breathe well either, which makes them hot -- sometimes very hot. If you don't want your feet on fire on your wedding day, stick with natural, breathable materials.
There are lots of ways to choose special wedding shoes that aren't flimsy or treacherous to wear. Embellishments like crystals, ribbons and cloth flowers are very popular, as are some unexpected decorative options like metallic finishes and shoes sporting animal prints.
You want your wedding shoes to be spectacular, and you may even be willing to sacrifice a little comfort for the sake of fashion. If that's an acceptable trade, you might be able to have the best of both worlds: Go for the perfect if painful shoes for the ceremony, and then change into ballet flats for the reception. Ballet bridal shoes are becoming more and more popular and accepted -- even for the big walk down the aisle -- and you can't beat them for comfort.
Most new dress shoes are smooth on the bottom. This looks great from an ants eye view, but it can be pretty slippery. Grab an emery board or a piece of fine grit sandpaper and score the bottoms of your shoes to make sure they'll get good traction on slick surfaces like wood, tile and polished stone.
Wear your shoes indoors...
The best way to break in your shoes is to wear them. Don't risk staining or damaging them by wearing them outdoors, but do walk around your home in them. Try making a 5-to-10 minute circuit of your home's interior once a day for a week. That should soften them up and make you more familiar with the way they feel on your feet. If you have stairs in your home, use them. The flexing action of going up and down stairs is a great way to break in a new pair of shoes.
If you'll be dancing at your reception, take some time to dance in your shoes before the music starts playing for real.
If your shoes feel stiff and tight, try wearing them with a pair of winter socks. Walk around in them this way for a few minutes a day over the course of a weekend. This should give them a roomier and comfier feel.
Take the confusion out of finding the right bridal shoes by following this rule of thumb; Fancy shoes for a simple dress; or simple shoes with an elaborate gown.
Look at some of these beauties from BHLDN...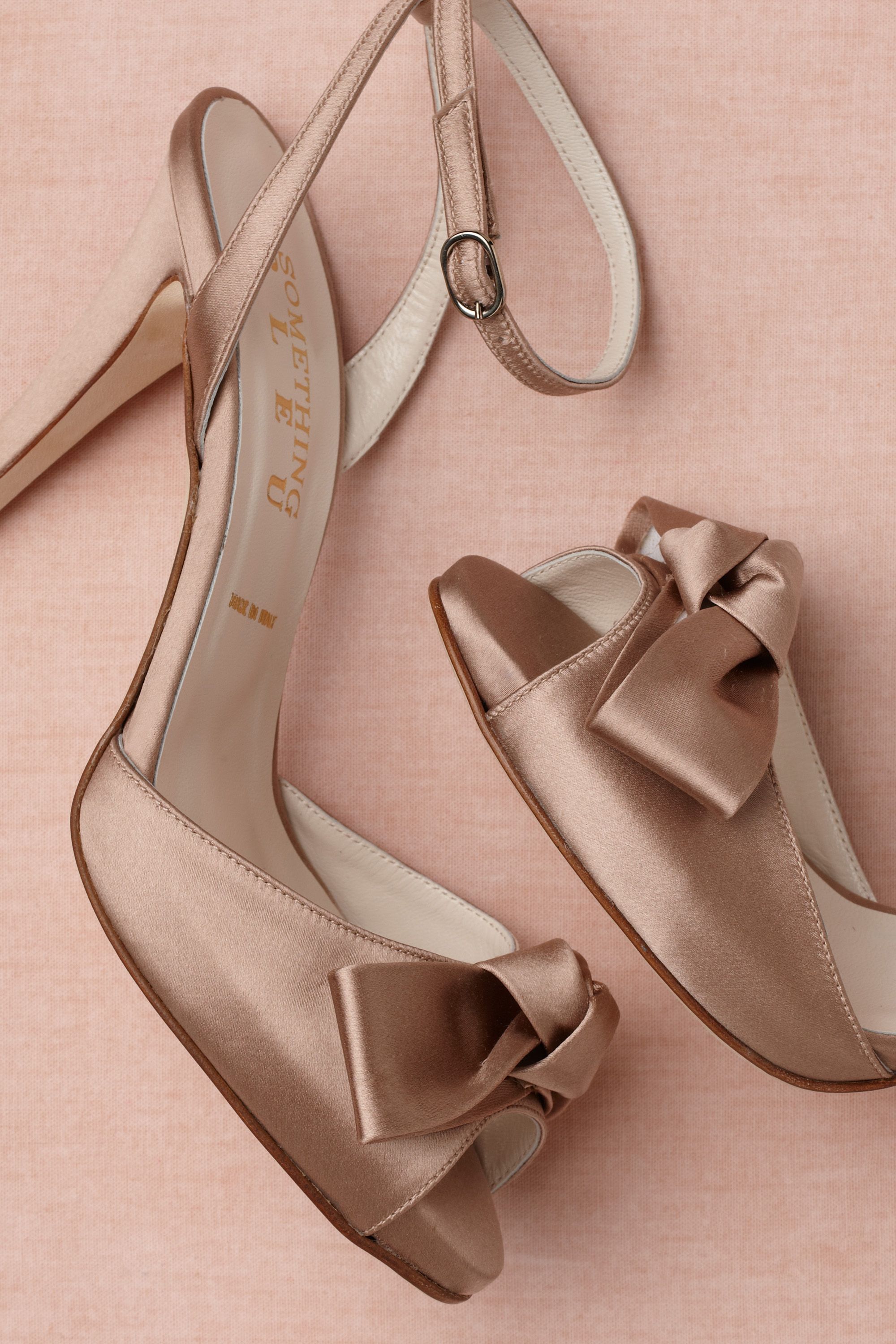 Luminous bows sit prettily on a curving peep toe below a slender, coiled ankle strap. 4.5" satin-wrapped heel, covered 0.75" platform. Buckle closure. Satin upper; leather sole. Handmade in Italy.
Oyster Bed D'Orsays
$310
by Something Bleu
Encrusted with a lustrous array of the sea's coveted gems, these satin slip-ons convey the same timeless elegance as an heirloom strand of pearls. Satin and glass pearl upper, leather sole. 2.5" satin wrapped heel. Handmade in Italy.
Sugar Plum Slingbacks $260
Pale rose leather is given a sleek silhouette and a million-faceted finish. Buckle closure. Metallic fabric upper; leather sole. 2" metallic fabric-wrapped heel. Handmade in Spain.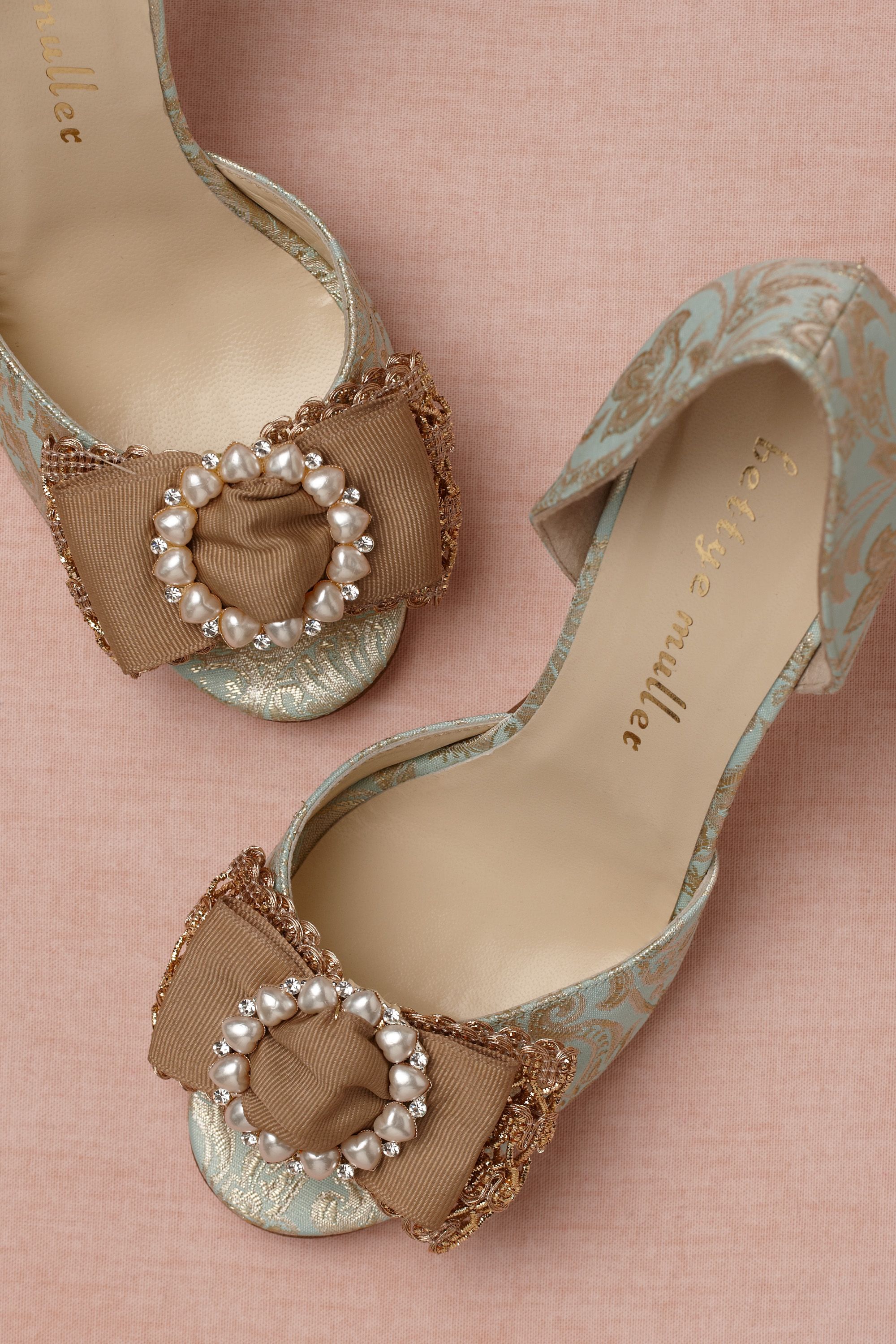 Sky blue brocade provides a luxe backdrop for beribboned and pearl-specked peep-toes. 3.5" Each pair is crafted from vintage fabrics and wallpaper designs; leather sole. Handmade in Italy and Spain.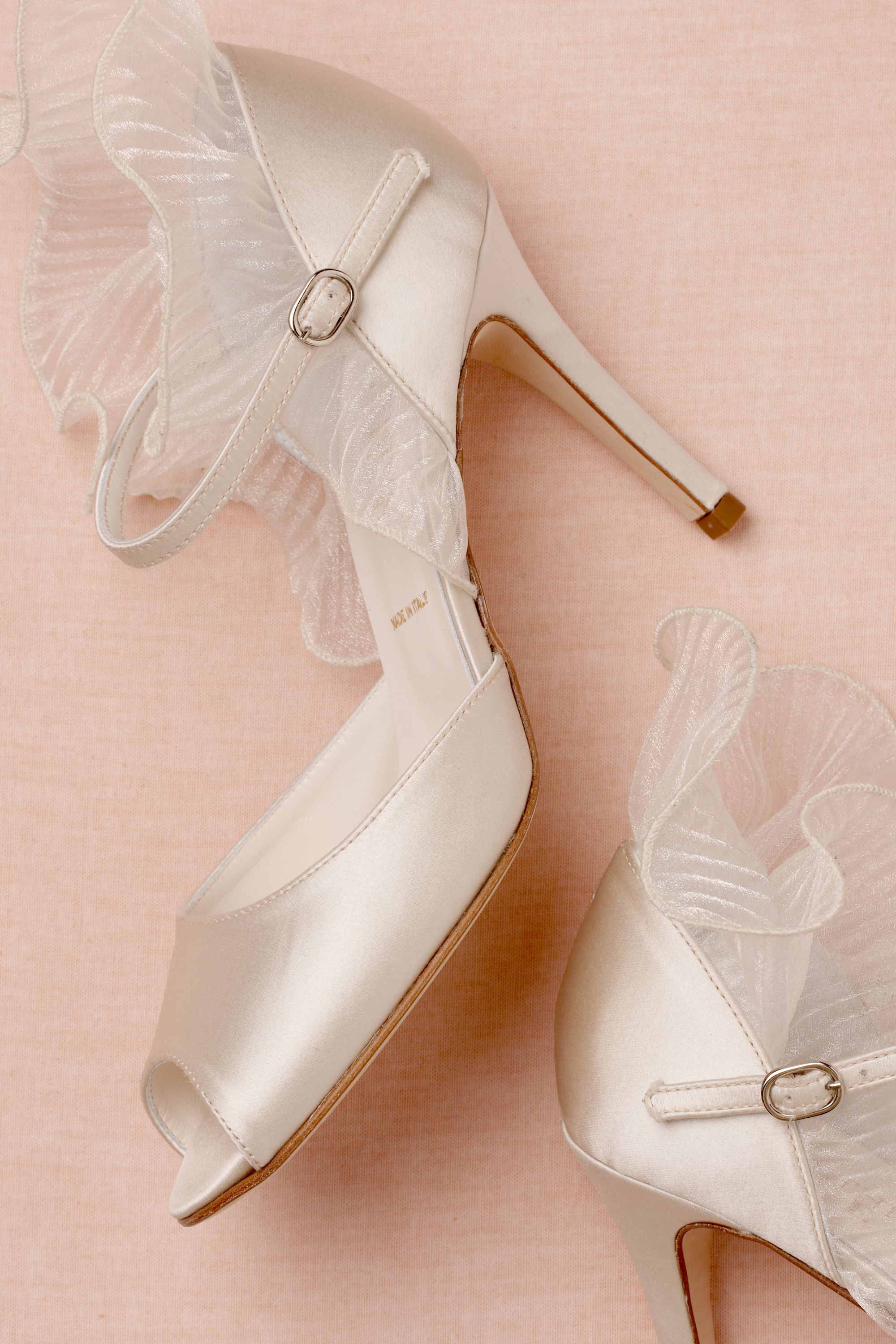 Something Bleu weaves billowing ruffles of glimmering tulle into ivory satin, for a pair of heels vivid with atmosphere. Adjustable buckle closure. Satin upper; leather sole. 4" satin-wrapped heel. Italy.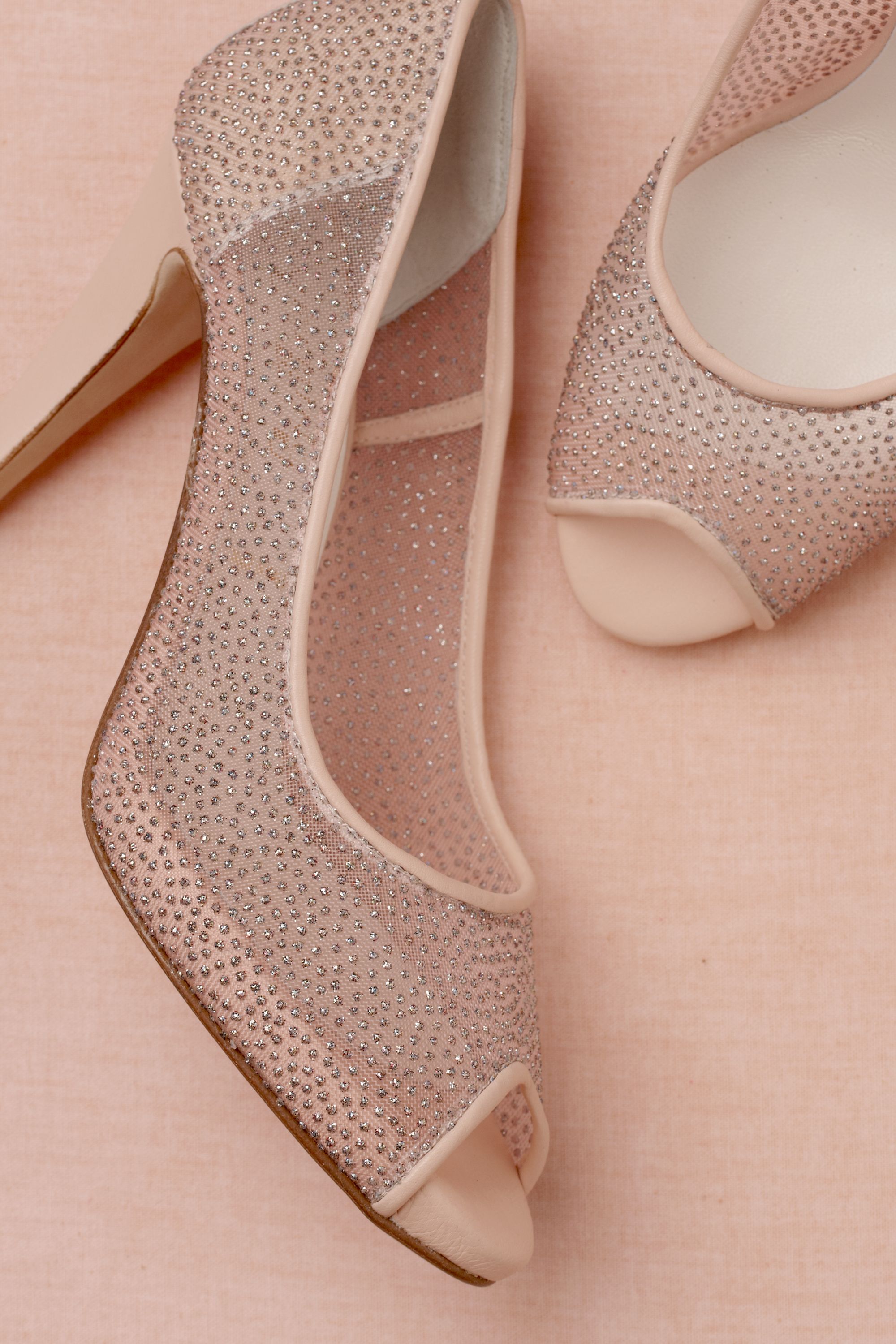 A smattering of silvery specks cover the mesh confines of blush leather piping, giving subtle shimmer to this chic, go-with-all pair. 4"leather-wrapped heal. Glitter mesh and leather upper; leather sole. Handmade in Italy.
Twinkling light with each step, interlaced rows of brilliant rhinestones on simple bands of leather perfectly finish a seaside soiree ensemble. From Klub Nico. Leather, rhinestone upper; leather sole. Handmade in Brazil.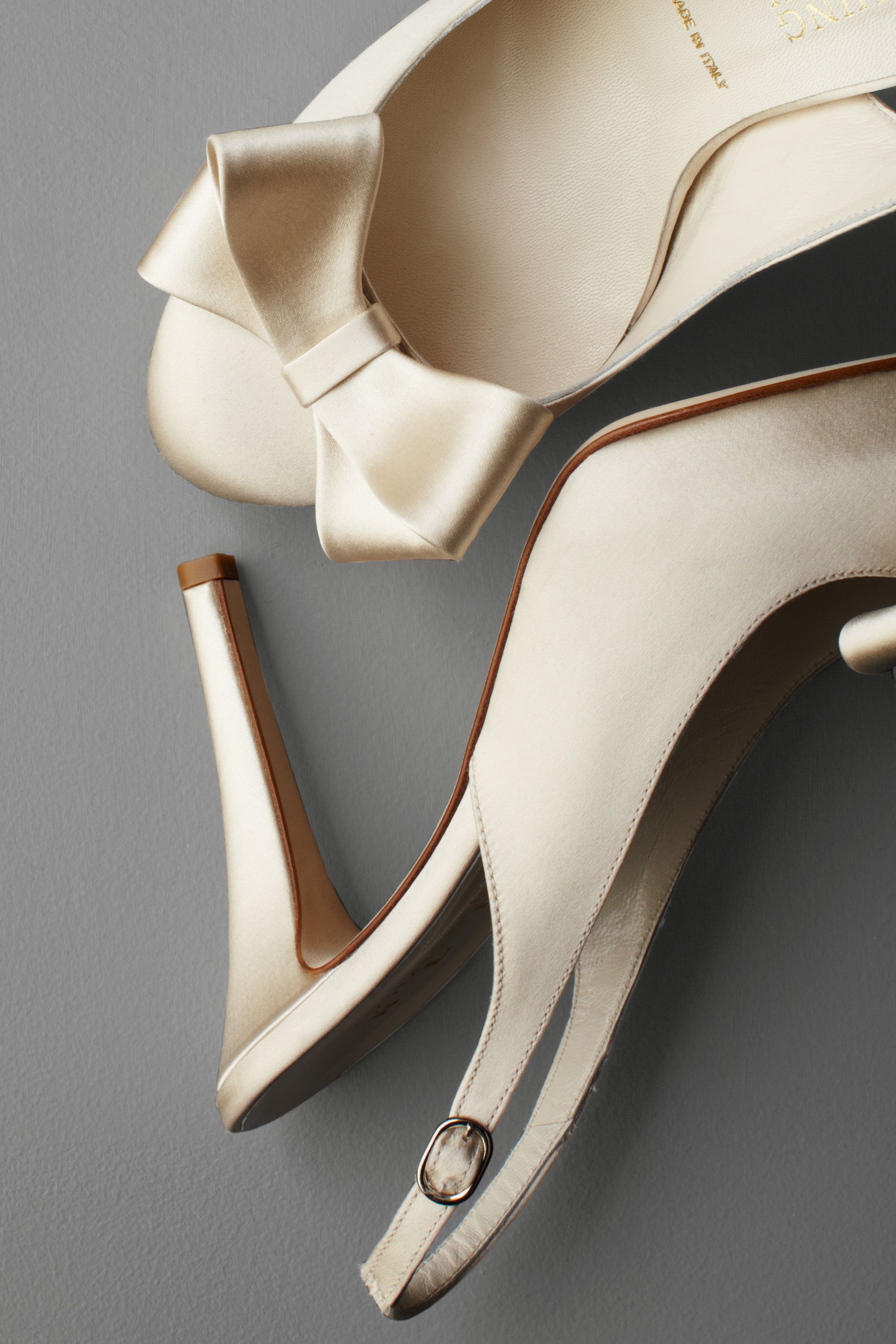 Lush, nearly glowing silk satin slingback with adjustable buckle. Silk upper, leather sole. 4" silk wrapped heel; 0.5" covered platform. Handmade in Italy.
Klub Nico's golden peep-toes boast asymmetrical styling and a crisply folded origami bow (perfect for brides and bridesmaids alike!). From Klub Nico. Adjustable buckle closure. Fabric upper, rubber sole. 4.25" fabric wrapped heel. Handmade in Brazil.
Have a pair wedding shoes that you think deserve recognition?
Send us a photo of you showing off those wedding kicks.